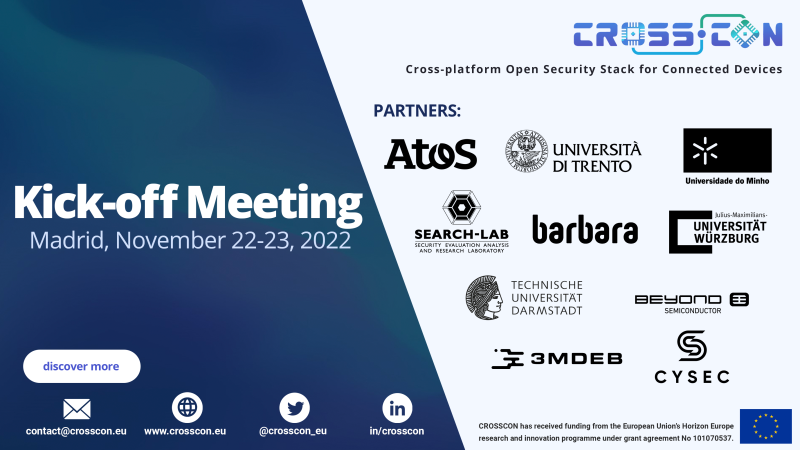 Madrid, Spain
The kick-off meeting for the Horizon Europe project CROSSCON (grant agreement ID 101070537) took place on November 22nd and 23rd at the ATOS facilities in Madrid, Spain. The two-day event brought together all of the CROSSCON partners who will be working together to create an open, modular, highly portable, and vendor-independent IoT security stack, capable of running on various devices with heterogeneous hardware architectures.
During the event, the Project Coordination team gave a comprehensive overview of CROSSCON's goals, plans, and future steps. This was followed by presentations from each of the ten consortium partners, where they shared insights into their organization, capabilities, experience, and role within the project. The presentations provided valuable information towards the successful execution of the CROSSCON work plan. 
The event included informative sessions that focused on the seven Work Packages defined for the implementation of the project, including:
WP1 - Requirements and Validation Criteria;

WP2 - Design Specification and Assurance for IoT

WP3 - Development of CROSSCON stack;

WP4 - CROSSCON for Domain-Specific Hardware Architectures

WP5 - Integration and Validation

WP6 - Dissemination, Exploitation and Impact

WP7 - Project Management
The event was a great success, offering a valuable opportunity for knowledge sharing, networking, and collaboration among the CROSSCON partners. The organizers are eagerly anticipating the exciting developments and outcomes that will result from the project.